Who: A DC Bride and her bridal party

What: Harry Potter Scavenger Hunt Bachelorette Party

Where: Georgetown, Washington, D.C.

Planning Time:  4 Months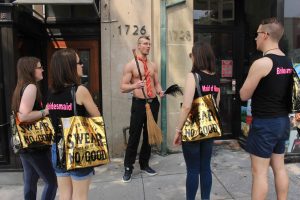 "Let us step into the night and pursue that flighty temptress, adventure." ~Albus Dumbledore, Harry Potter and the Half Blood Prince
This past summer, my team and I planned a Harry Potter inspired bachelorette party for a Washington, D.C. bride and her bridal party of seven, where the Bride and her entourage embarked on a day long scavenger hunt in the heart of Georgetown.  The Bride wanted her bachelorette party to be unique, with fun events planned for both the day and evening.  Her sister, the Maid of Honor,  recalled hearing about a scavenger hunt my team and I put together in Virginia Beach and requested that we plan a movie-themed hunt for the Bride as a surprise.  My team and I suggested the magical adventures of Harry Potter, one of the Bride's favorite series. And what an adventure!
The festivities began in the morning with an unexpected (but very precisely planned) visit from a daintily-clad male model playing the role of Harry Potter, complete with a realistic Hedwig sidekick and authentic Hogwarts necktie. Riding a broom, "Harry" surprised the Bride and her crew at their lodging in Georgetown and presented them with their very own Hogwarts accessories and themed tote bags stocked with snacks, drinks, custom maps, Harry Potter props and their first scavenger hunt clue.  Divided into two "houses", the ladies would spend the day decrypting riddles that would even make Ms. Rowling want to partake in the fun. A photographer trailed each group to capture the day's shenanigans and to keep score.
Each clue led the girls to a special destination where they found "Harry" ready to congratulate them and provide the next clue.  The destinations included Starbucks (which my team contacted ahead of time so as to provide "special Harry Potter" drinks for the girls, with cups containing the next clue), cultural points of interest, the Bride's favorite shops, a paint and sip shop where the group engaged in a painting session while they enjoyed a catered lunch paired with wine, historic gardens (where I arranged for the girls to take a tour as the Bride loves botanical gardens), a tea lounge (where the girls enjoyed a lavish "high tea") and a posh nail salon (where the Bride and her crew were pampered after a day of exploration).
At the end of the day, "Harry", my team and I welcomed the Bride and her ladies when they returned to their Georgetown lodgings and presented them with mementos from the day, including a completed photo scrapbook for the Bride containing photos that the photographers had shot throughout the day, illustrated copies of clues and other memorabilia from the hunt.  
The bachelorette party is a time of celebration and should reflect the lovely uniqueness of the bride herself. This was an incredibly unique and wildly fun bachelorette party that was customized to the Bride's tastes. Every aspect was designed with her preferences in mind and the result was an exciting escapade that delighted the Bride and her friends.  As the Bride put it, "This was, hands down, the best bachelorette party!  It was definitely 'me'.  I even bought the Hedwig stuffed animal that Harry carried around so that I can always be reminded of it! And I totally appreciate how amazingly organized it all was, it was like something out of a movie! Thank you!!!"  
Thank you to all the vendors:
Harry Potter Model:  Vasile
Photographers:  Lady Reyes and Austin Francisco
Georgetown Business Improvement District
Painting Activity:  ArtJamz
Mansion and Gardens:  Tudor Place
Tea Time:  Lady Camelia
Spa Time:  Charming Nails